Fine dining is all about extraordinary cuisine, prestigious wine and customized service. When you treat yourself to a fine dining experience, you wouldn't want any embarrassing faux pas to happen. That's why fine dining etiquette is important to bring out a memorable dining experience.  Next time you celebrate your special occasion in a fine dining restaurant, keep in mind these 6 tips for a meal you'll never forget.
Smart casual is recommended
Smart casual attire is a dress code that combines well-fitting, polished business wear with elements of casual attire—think blouses, polo shirts, button-downs, chinos, dress pants, dark-wash jeans, and polished, practical footwear.
Besides, casual elegance is another choice to opt for. Elevate your look from a working professional to a more dressed-up dinner guest. For men, this could mean a dark suit or button-down with a sportcoat. . For women, a more formal black dress or pantsuit would be perfect.
Switch your phone to silent mode
When you walk in a fine dining restaurant, make sure you switch your phone to silent mode or even airplane mode. It helps you not to be distracted by text or app notifications and focus on the conversation with your dining companion. 
Toasting gently with a glass bowl
Crystal is always more fragile than glass and fine dining places tend to use crystal stemware for wine service. If you want to toast the evening, toast very gently with the glass bowl to avoid damaging the glassware and creating loud noise that may disturb other guests. Remember to smile and make eye contact with your partner when saying cheers.

Practice good posture
For proper dining etiquette, sit upright with your feet on the floor, and never put your elbows on the table. When drinking from a glass, avoid looking at everyone else in the restaurant. Instead, keep your eyes directed into the glass.
How to use your napkin
When you sit down at the table, fold the napkin in half with the crease facing you before placing it on your lap. Remember to only use your napkin to dab or blot stains, do not wipe.
When finished, fold the napkin so all stains stay on the inside. When you need to stand up to go somewhere, fold and place your napkin on your chair to signal that you are yet to finish your meal. When the meal is over, fold your napkin neatly and place it next to your plate.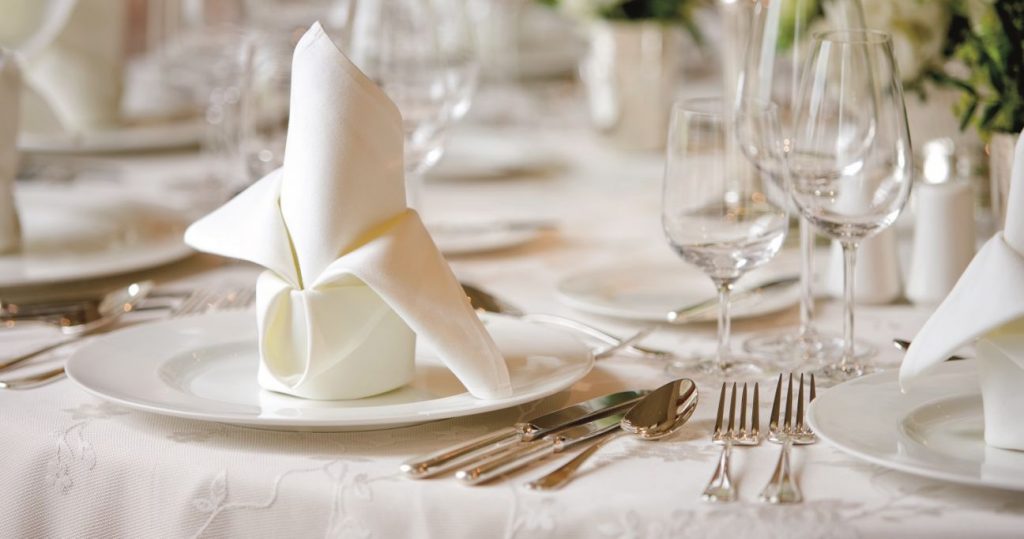 How to use your cutlery
The rule of cutlery utilization is to start from the outside and work your way in. Salad forks and soup spoon come before your starter fork. Beefsteak also has its own cutlery. Always spear food with your knife and fork. Never use cutlery to gesture to your companions.

Enjoy the art of life at GU Bistronomy
Escape from the hustle and bustle of Hanoi city life and immerse yourself in our artistic and contemporary dining scene. Emanated from a great passion for classic and high-class gastronomic experience, GU Bistronomy is dedicated to create a cutting-edge venue to appreciate the quintessence of winery and culinary art. At GU, every table is carefully adorned with artistic patterns, elegant tableware and sparkling stemware. We elevate the culinary art with purest and best quality ingredients alongside creative flairs and modern techniques.
Our wine list is a curated collection from more than 50 most respected viticultural regions worldwide. Our professional Sommeliers are on-hand to recommend you good wine that suits your preference and choice of food.
Tìm kiếm nhiều nhất: nhà hàng fine dining, nhà hàng âu hà nội